2023/1/12 Announcement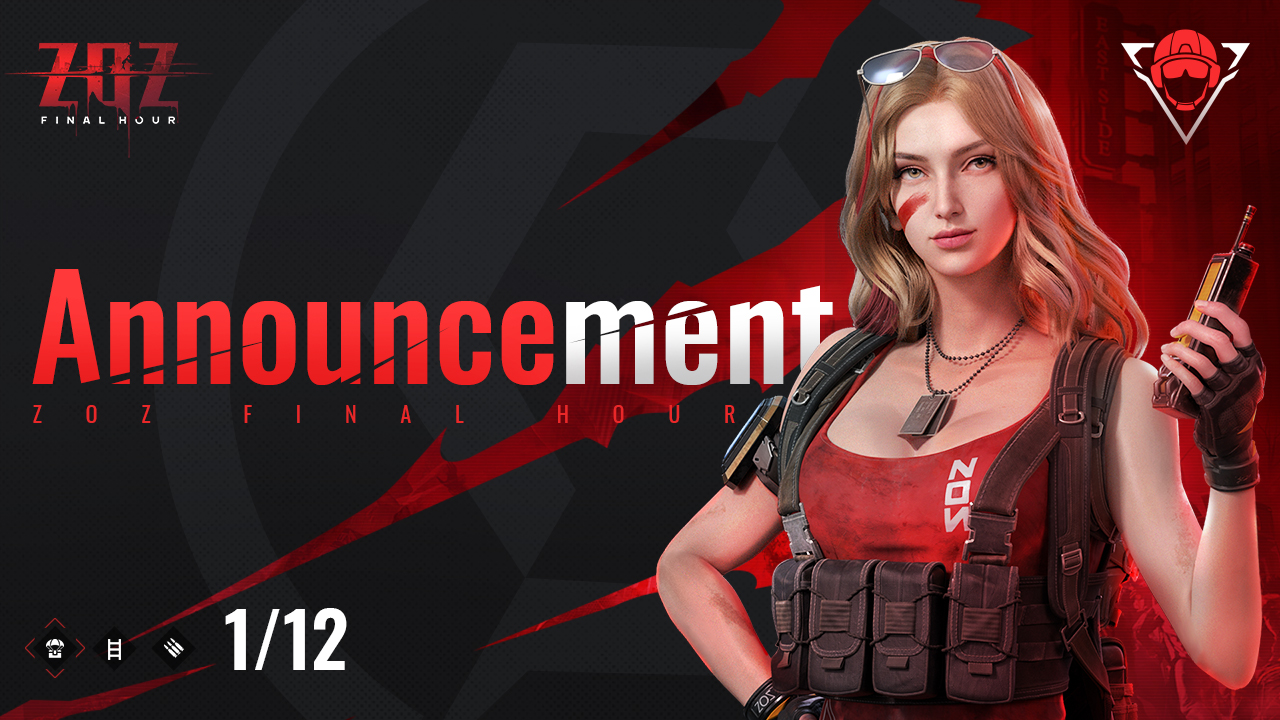 January 12, 10:00 (UTC +8) Rolling Maintenance Notice
Greetings, Mercs!
Thank you all for your participation and support for ZOZ: Final Hour! We have received tons of valuable feedback and are all-hands-on-deck to improve your game experience. We will be undergoing maintenance soon. Please check the details below.
[Update Time and Method]
January 12, 10:00 - 12:00 (UTC +8)/January 11, 23:00 - January 12, 1:00 (UTC -3)/January 12, 9:00 - 11:00 (UTC +7). Maintenance won't cause server interruptions, however, players will need to restart the game. Some features may be restricted during the maintenance period, so please keep an eye on in-game messages.
[Features and Fixes]
Gameplay Optimization:
We have optimized the object throwing experience. Thrown objects will now more accurately hit the target location.
Tactical Gear - Balancing:
1. Airdrop Signal Gun: Reduced amount of mod materials and Zees. Reduced equipment level.
2. MG Tower: Single-shot round damage adjusted to 6 (from 10).
3. Mech-Shield: CD adjusted to 90s (from 150s), increases recharge times by 1, players could set 2 Mech-Shields simultaneously.
4. Holographic Projection: Increases recharge times by 1.
5. Targeted Assault: Hit radius adjusted to 8m (from 10m).
6. Molotov Cocktail: Burn radius adjusted to 6m (from 8m).
7. Tracking Lens: Removed.
Other Optimizations:
We have found and optimized some performance problems. If you're still encountering any performance-related problems, please let us know via Facebook or Discord.
[New Servers and Regions]
We have increased our servers and regions. The details are as follows:
1. SEA servers: Malaysia (New), Indonesia
2. North American servers (New): Mexico (New), Colombia (New)
3. South American servers: Bolivia (New), Peru (New), Brazil.
Welcome all new Mercs to ZOZ: Final Hour. If you're still encountering any performance-related problems, please let us know via Facebook or Discord. We will read all suggestions carefully to improve your game experience.
[Dev Notes]
Thank you for all of your interest and feedback. Be sure to follow our Facebook(https://www.facebook.com/ZOZFinalHour) and Discord(https://discord.gg/EncGWSEWbs) to get the latest info and keep sending feedback!
We currently have plans to add greater variety to combat. The changes we are currently designing and developing are:
1) Adding new weapons
2) Redoing most of the components
3) Reducing player's firepower at the beginning of the matches, Mercs might start the match with pistol
We hope that the above changes will help us make combat more interesting. We also hope to inject a sense of urgency in the beginning of matches. Concurrently, we have prepared a new season and pass for everyone, along with providing all-new exclusive tier rewards and flashy new clothing. We hope everyone will participate with the enthusiasm that you've all shown us so far!
We thank everyone for their passion and care. ZOZ: Final Hour would not be possible without you! As always, we welcome your feedback, and are more than happy to hear your thoughts about the game. Thanks for your cooperation!
Best Regards,
ZOZ: Final Hour Team