2022/12/15 Announcement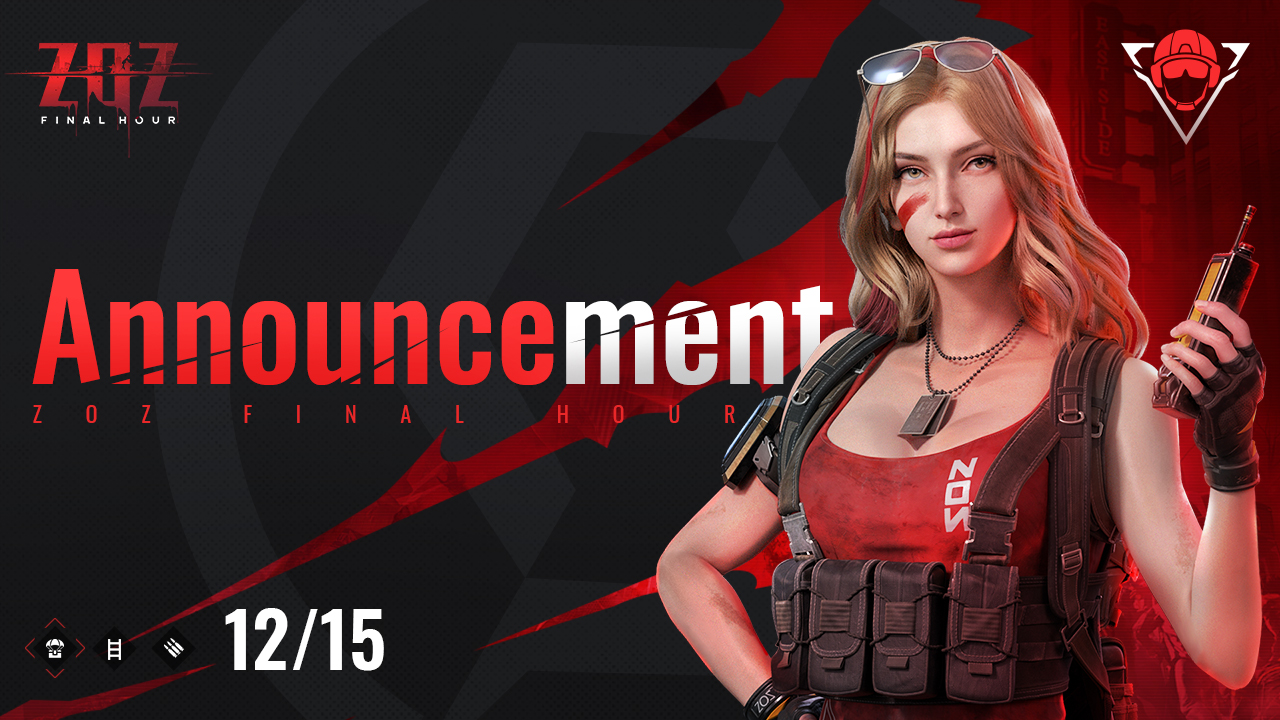 December 15, 10:00 (UTC +8) Rolling Maintenance Notice
Greetings, Mercs!
Thank you all for your participation and support for ZOZ: Final Hour! We have received tons of valuable feedback and are all-hands-on-deck to improve your game experience. We will be undergoing maintenance soon. Please check the details below.
[Update Time and Method]
December 15, 10:00 - 12:00 (UTC +8)/December 14, 23:00 - December 15, 1:00 (UTC -3)/December 15, 9:00 - 11:00 (UTC +7). Maintenance won't cause server interruptions, however, players will need to restart the game. Some features may be restricted during the maintenance period, so please keep an eye on in-game messages.
[Features and Fixes]
Gameplay Optimization:
1. Continued optimizing the spread of enemies and resources in certain blocks and completed all blocks' optimization. Now, all resource zones will be visibly marked on the minimap, and enemies and resources outside the marked zones will be greatly reduced. We hope this will help Mercs strategize where to collect resources.
Other Optimizations:
1. We've optimized some performance issues. If you're still encountering any performance-related problems, please let us know via Facebook or Discord.
[Dev Notes]
Thank you for all of your interest and feedback. Be sure to follow our Facebook(https://www.facebook.com/ZOZFinalHour) and Discord(https://discord.gg/EncGWSEWbs) to get the latest info, and keep sending feedback!
We thank everyone for their passion and care. ZOZ: Final Hour would not be possible without you! As always, we welcome your feedback, and are more than happy to hear your thoughts about the game. Thanks for your cooperation!
Best Regards,
ZOZ: Final Hour Team