2022/11/17 Announcement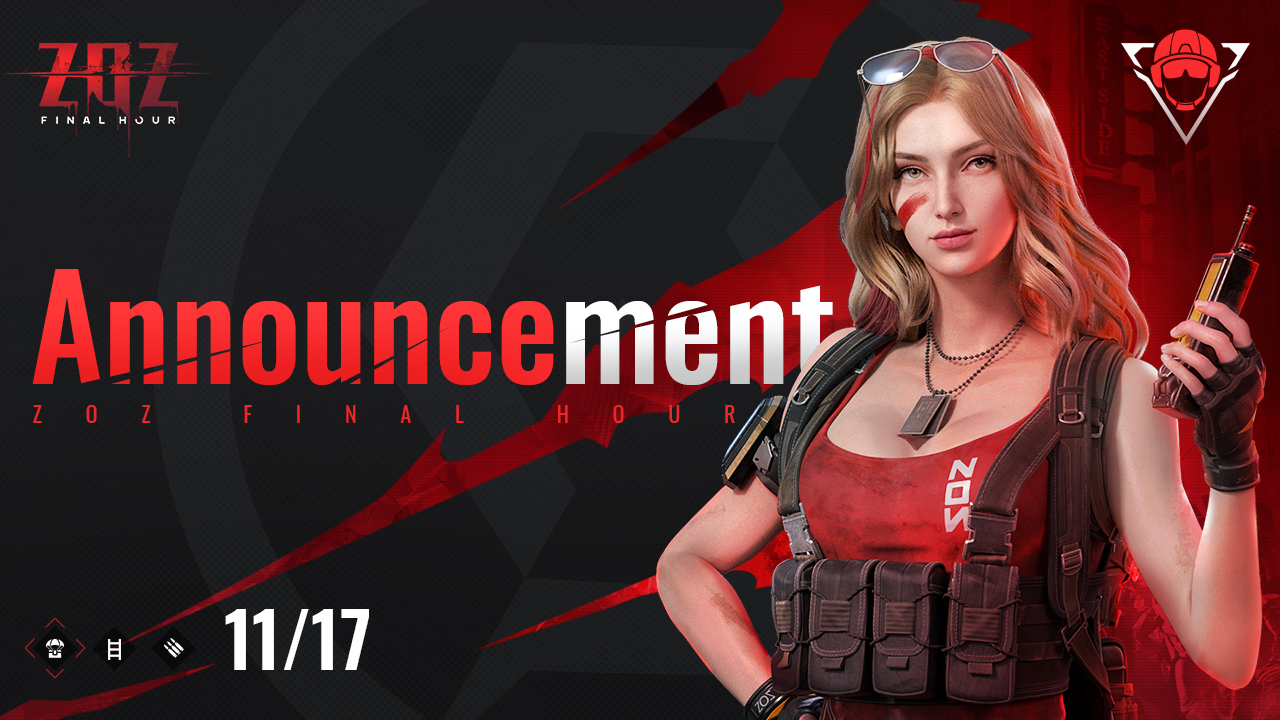 Greetings, Mercs!
Thank you all for your participation and support for ZOZ: Final Hour! We have received tons of valuable feedback and are all-hands-on-deck to improve your game experience. We will be undergoing maintenance soon. Please check the details below.
[Update Time and Method]
November 17, 10:00 - 12:00 (UTC +8)/November 16, 23:00 - November 17, 1:00 (UTC -3)/November 17, 9:00 - 11:00 (UTC +7). Maintenance won't cause server interruptions, however, players will need to restart the game. Some features may be restricted during the maintenance period, so please keep an eye on in-game messages.
[Features and Fixes]
Gameplay Optimization:
1. An HP bar will be displayed while hitting another Merc to indicate HP amount and Armor level. Weapon mod levels will also be displayed once an enemy Merc is killed.
VFX Optimization:
1. Improved graphics since several models of device have darker display. The graphics and light contrast should now be clearer.
2. Added an explosion effect with the screen fading to white to indicate the mission ending.
[Dev Notes]
Thank you for all of your interest and feedback. Be sure to follow our Facebook (https://www.facebook.com/ZOZFinalHour) and join official Discord server (https://discord.gg/EncGWSEWbs) to get the latest info, and keep sending feedback!
We always try to optimize for performance with every update. In this version, we noticed some areas that seriously impacted performance and have already taken measures to fix them. We hope this will provide everyone with a better gaming experience.
We will be adjusting combat balance and stage experiences. Be sure to stay tuned for more update announcements.
We thank everyone for their passion and care. ZOZ: Final Hour would not be possible without you! As always, we welcome your feedback, and are more than happy to hear your thoughts about the game. Thanks for your cooperation!
Best Regards,
ZOZ: Final Hour Team