2022/10/08 Announcement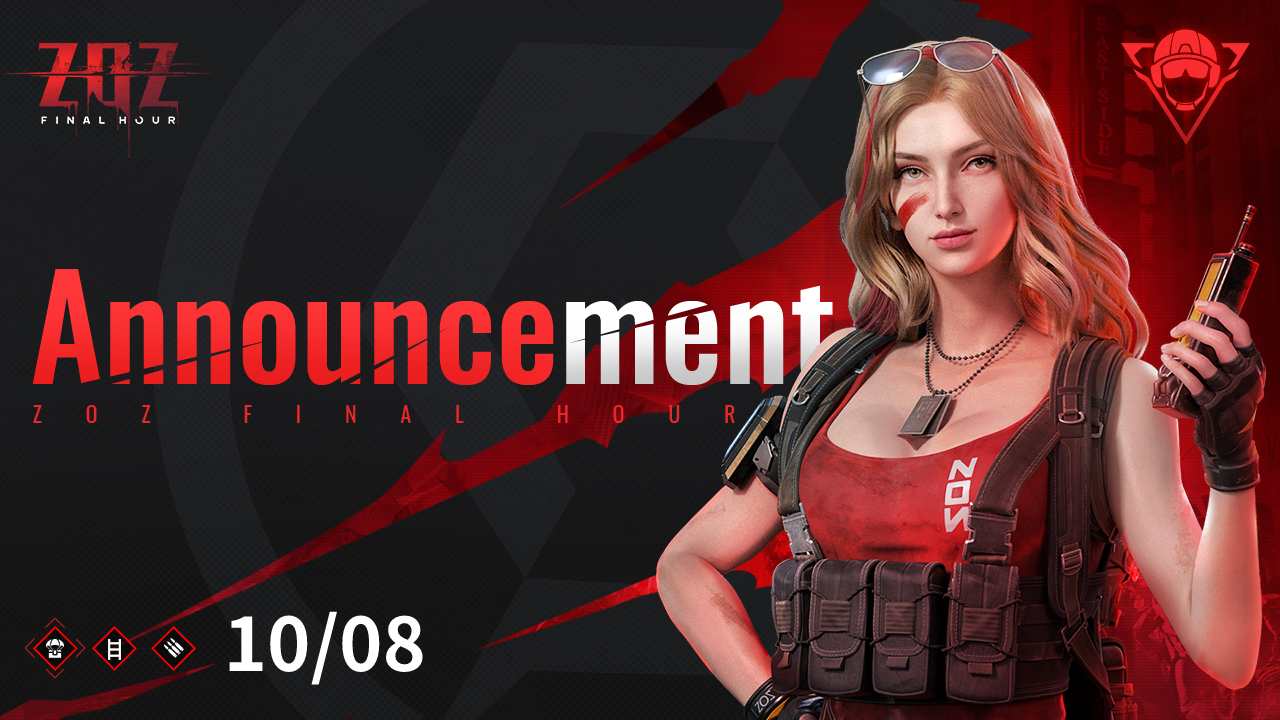 Greetings, Mercs!
Thank you all for your participation and support for ZOZ: Final Hour! We have received tons of valuable feedback and are all-hands-on-deck to improve your game experience. We will be undergoing maintenance soon. Please check the details below.
[Update Time and Method]
Because of the sheer amount of content in this update, we will be performing our regular update on October 8 to ensure it goes smoothly. Please take note of these update times.
Time: October 8, 10:00 - 12:00 (UTC +8)/October 7, 23:00 - October 8, 1:00 (UTC -3)/October 8, 9:00 - 11:00 (UTC +7).
Maintenance won't cause server interruptions, but players will need to restart the game. Some features may be restricted during the maintenance period, so please keep an eye on in-game messages.
[Features and Fixes]
New Feature Launch:
1. The highly-anticipated random Duo Mode is finally going live. Solo players can now queue for Duo matchmaking, and the system will assign them suitable teammates and opponents. We hope everyone will enjoy the team-up experience and meet some fun allies!
Feature Adjustments:
1. To offer players more strategic chances, Mercs will be able to select a Safehouse to revive in rather than get revived in a random location after dying.

2. To help players plan the best routes, we have restructured the minimap to clearly display Blood Crystal and resource locations. While piloting the chopper, players will also be able to see other players' locations. We have also temporarily removed the BC GPS and BC Jammer.

3. We've noticed a lot of players' enthusiasm for tinkering with different weapons and tactical gear to craft powerful combos but find it difficult to obtain them in matches. With this in mind, we have added weapons and tactical gear variety to zombie and crate drops. We hope everyone will be able to experiment more with different combos. This content has been launched earlier on September 28.

4. We have improved the structure of School and Apartment. Players can now find more effective areas to await the evac chopper. We have also adjusted resource amounts for Construction Site, School, Apartment and Pedestrian Street to ensure gameplay variety.

5. We have optimized the audio effects of Merc's footstep and gunshot, as well as the visual effects of muzzle flame, shells, Sniper Rifle lens reflection and others to provide a more immersive combat experience.
All-new Season and Pass Launch:
1. On October 6, 6:00 (local time), we will unveil Season 3: Rebirth, while Battlepass: Duty Bound will be released earlier at 5:00 (local time). We will also reset everyone's ranking tiers and Battlepass levels according to the rules. Mercs wishing to get higher tiers and pass levels before the current season and Battlepass end, do so now!
2. We have adjusted the requirements of some Pass quests to meet player's preferences.
Balance Adjustments and Bug Fixes:
1. Combat Balance Adjustments:
-Sniper Rifle: Base damage increased to 115. Area DMG of Lv.4 mod Blast Round reduced to 53.
-Airdrop Flare Gun: CD adjusted to 3 min, with greatly increased drop's quality and amount.
-Targeted Assault: Delay reduced from 8s to 2.2s when in use, with increased hit range and damage.

2. Higher possibility that Evac Zone spawns near Signal Emitters.

3. Improved map climbing experiences. Players can now climb walls more easily in the city without getting stuck.
[Dev Notes]

Thank you for all of your interest and feedback. Be sure to follow our Facebook(https://www.facebook.com/ZOZFinalHour) and Discord(https://discord.gg/EncGWSEWbs) channels to get the latest info and keep sending feedback!
In the current version, we have noticed that match pace varies wildly at times, making it difficult for players to strategize. We already have initial solutions in progress. When we have more info, we will be sure to inform you ASAP.
We thank everyone for your passion and concern. ZOZ: Final Hour would not get better without you! As always, we are open to hear your thoughts and complaints about the game. Thanks for your cooperation!
Best Regards,
ZOZ: Final Hour Team