09/08 Announcement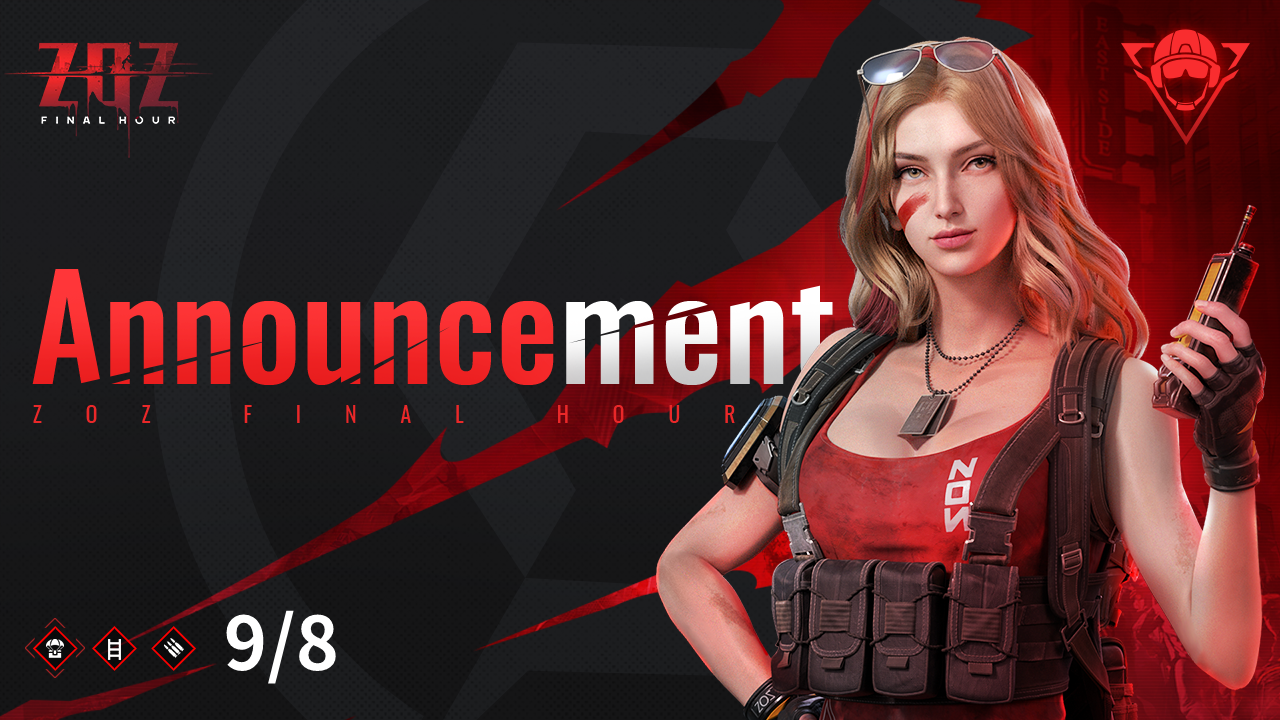 Greetings, Mercs!
Thank you all for your participation and support for ZOZ: Final Hour! We have received tons of valuable feedback and are all-hands-on-deck to improve your game experience. We will be undergoing maintenance soon. Please check the details below.
[Update Time & Method]
September 8, 10:00 - 12:00 (UTC +8). Maintenance won't cause server interruptions, however, players will need to restart the game. Some features may be restricted during the maintenance period, so please keep an eye on in-game messages.
[Features & Fixes]
1. **Important Update** Dying Human Mercs can now be attacked and be completely nullified. When dying Mercs are attacked and die, they will be revived at the nearest Safehouse when the timer ends. A revival chance will also be deducted. We hope this change will eliminate any negative user experiences of having to crawl to a Safehouse.
2. We have increased the evac chopper's waiting duration by 1 minute, so that more Mercs will experience smoother evacuations.
3. "Last Hope's" trigger timing has been moved forward. We have observed the chaos in some late-game matches where players have abandoned their objectives, and we hope this change will help everyone end matches under more desirable circumstances.
4. Supply crates now drop more items when opened. We hope this change will help everyone gain more loot quicker and enrich your game experience.
5. Balance Adjustments:
a) Weapons:
The M249 LMG's price has been reduced to 300 (from 350). We hope that players can choose the M249 and Ammo Belt before battle starts.

b) Tactical Gear:
Holographic Projector: Duration increased to 90s (from 60s). Cooldown reduced to 120s (from 180s).

c) Components:
All "Continuous Fire" mods and components: Time to take effect reduced to 0.4s (from 1s).
Point-blank: Damage increase reduced to 20% (from 25%).
Need for Blood: HP regen each time reduced to 40 (from 50).
6. Bug Fixes:
We reduced the accelerated effect of Component: Hasty Healing in the previous update, but upon further observation, we have noticed that though the meter time shows 2.8s, the actual effective time is still 2s and was not in fact reduced. We will implement the actual reduction to reflect the displayed time this week.
[Dev Notes]
We expect to once again optimize the revival experience in the next two updates. To elaborate, when revived, players can choose their respawn points. We hope this change will provide more strategic choices for all Mercs.
Thank you for all of your interest and feedback. Be sure to follow our Facebook and Discord channels to get the latest info, and keep sending feedback! We will read it all with care.

Since the previous update, we have begun to reply to everyone's messages on Facebook and Discord. We sincerely welcome all the feedback and criticism that everyone has sent so far, and are more than happy to have ongoing discourse with all of you. We also hope everyone has been satisfied with our responses thus far!
Best Regards,
ZOZ: Final Hour Team